What's better than a Yacht Charter?
Our 'Learn to Sail' vacation packages offer you all the excitement of a sailing charter without the risk of taking full responsibility for a large sailboat yourself. Our professional Captains teach you and your family or group to sail and make it a fun, exciting, memorable experience. It's your trip so you decide what you want to do and where you want to sail to, there's plenty of time to relax. It doesn't matter whether you have experience and want to improve your skills or arrive without any sailing experience; by the time you head home you'll be confident in your sailing ability. We offer you the most perfect tropical location in which to enjoy your sailing vacation. You can incorporate scuba diving lessons, experience snorkeling on the stunning barrier reef, visit numerous scenic and quaint island settlements and enjoy outstanding menu options. Your challenge is to fit as much fun as possible into your trip! Find out more now
$random_text = array( "
"My husband and I long for the live aboard cruising lifestyle. Choosing the right charter company was imperative, as we saved for three years to be able to take our "once in a lifetime" family vacation to learn to sail. We chose Sail School Bahamas for three reasons: great price, they cater to families, and they allow younger children. In retrospect, we made the best investment of our lives when we decided to go with Sail School Bahamas and learn to sail under Captain Charles."

Marianne Falk and Family - 2013, Fayetteville, Ark.
", "
"Wow, how to start this testimonial.  I have been an experiential educator for 25 plus years and can honestly say our week with Captain Charles and Sail School Bahamas was one of the most impactful learning venues I have ever participated in.  Not only was I changed as an educator, but it also had a profound impact on our students"

Expedition Crew - 2014, Toccoa Falls, Ga.
", "
"Best Adventure Ever!  Consider Sail School Bahamas
In the Bahamas, it's more beautiful than you can imagine. It's no wonder the beaches are rated as some of the top in the world by National Geographic. And you get to experience it all in your own boat with a knowledgeable captain with world-wide experiences to share."

Peggy Scholberg - 2014, Venture Crew 1776 - Apple Valley, MN.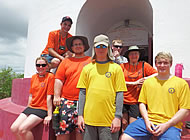 ", "
"This was our Troop/Crew's third trip to the Bahamas. The first two trips were with Sea Base but we needed more flexibility this time around and chose Sail School Bahamas. We could not have made a better choice! This trip was as much a vacation as a great learning experience for the scouts. Since we've returned all I've heard is when are we going again!"

Kimberley Shield - 2011, Adult Leader, Venturing Crew 405/Troop 405, Georgetown, TX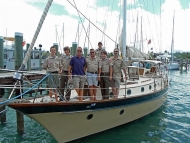 ", "
"Our week at Sail School Bahamas was best characterized by our scouts as the "trip of a lifetime!"
Sail School Bahamas is differentiated from all other Scouting High Adventures with their deliberate focus on instruction and attention to details.
I highly recommend Sail School Bahamas to anyone who is looking for an extraordinary High Adventure in one of the most beautiful settings on the planet."
Geoff Jue - Asst Scoutmaster, Boy ScoutTroop 426, Minnetonka Aug 2, 2011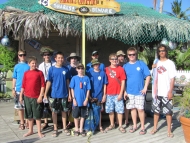 ", "
"The week was excellent. Several of our scouts had not snorkeled before this trip. I told them how lucky they were to have this be their first experience. The reefs were so vast and beautiful it will be hard for anyplace to top this experience."

Richard Zanetti - 2011, Adult Leader, Troop 451, Parkton, MD
"); srand(time()); $sizeof = count($random_text); $random = (rand()%$sizeof); print("$random_text[$random]"); ?>