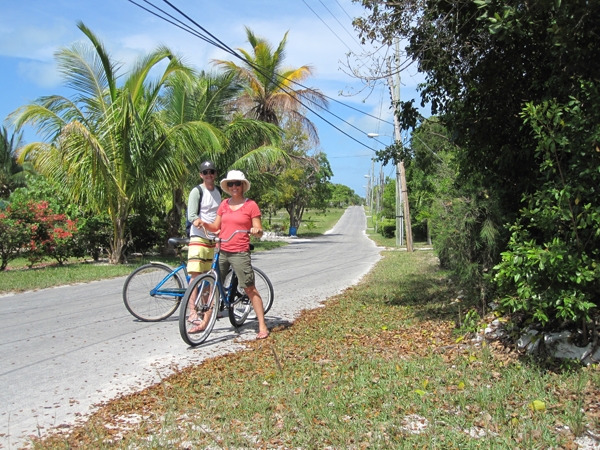 There are so many fun options for you on our trips, the hard part is trying to fit it all in! Your trip will be a non-stop, action-packed experience but remember it's your trip so if you want some chill out time just let your Captain know.
Our sailing area extends throughout the Sea of Abaco and you'll travel to numerous islands during your voyage. Each island has a uniquely different character and offers a variety of options for your crew. Every day, your Captain will brief you on all the options available, the best places to go and special points of interest then you can choose whatever you would prefer.
Onshore activities
There are several interesting historical settlements to visit.
You can climb the world famous candy-striped lighthouse in Hope Town
There are lots of family-friendly Reef bars and Tikki Bars, most have swimming pools
Several islands offer Bicycles, Kayaks and Golf Carts, if you have time
There are lots of great local restaurants serving tasty seafood dishes like Conch Fritters, Lobster, Mahi Mahi and Grouper. There are plenty of alternative options if you prefer something other than seafood
On Man O' War Cay, Albury Sail Shop specializes in hand-made canvas products
Also on Man O' War Cay is Joe's Studio where you can see scale models of traditional shipbuilding
Treasure Cay has one of National Geographic's Top 10 beaches of the world!
There are several museums on the islands
On Green Turtle Cay there is a model ship builder
On most islands you can hike the island trails to go shelling on deserted beaches
At Miss Lola's Bakery on Man O' War Cay your group can buy extremely tasty, monstrous Cinnamon rolls
For Scouts, a great idea for your crew is to suggest a short, easy 'good turn' project such as a 'Beach Clean-Up' on one of the beautiful beaches on Man O' War, Gt. Guana or Elbow Cay. This need only take 15-20mins and is rewarding for your group as well as being appreciated by the locals.
Offshore activities
The local Bahamian fishermen like to use Cuban Yoyos to catch their dinner, this simple method uses a donut-shaped plastic reel with a baited hook, it's easy to do and you'll likely have instant success if you're in the right spot, with the right bait. Your Captain will take you to any one of a host of good fishing spots if you want to fish, however we can't guarantee you'll catch anything, that's up to you!
Conch hunting is a fun activity as well as providing an interesting experience when your Captain demonstrates how to clean a conch and prepare it for dinner. Please note that fishing regulations limit the number of conch your group can collect as well as regulating the size/maturity of the conch you take. These regulations also apply to fishing and lobstering so check these and season dates with your Captain.
There are many, many great locations where you can dive on wrecks, swim and simply relax on shallow sandbars, snorkel on reefs, drift snorkel along an undersea coral wall, etc. Just ask your Captain and he or she will impress you with their local knowledge.