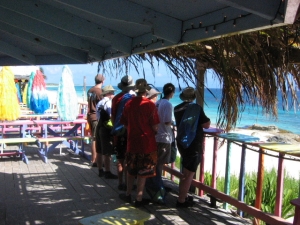 Our exciting and fun filled 'Learn to Sail' educational programs, based in the beautiful yet remote environment of the Sea of Abaco, reward each crewmember with a range of 'life-skills' and a unique sense of achievement and personal growth. With our expertise your school can organize a Teamwork & Leadership Program for your students they will remember as a pivotal point in their educational experience.
We liaise with your School, College or University staff to customize our sail training program and our core Teamwork & Leadership Program itinerary to suit the specific requirements of your group. We deliver a proven schedule, feasible goals and outcomes, a well-established assessment/evaluation methodology and suggest ancillary texts, which you may wish to incorporate.
All necessary training is provided so no sailing or scuba diving experience is necessary.
The Program
Our Teamwork & Leadership Programs offer your staff and students a unique learning experience and an exceptional opportunity for personal growth and development while enjoying an international/overseas adventure of a lifetime. Our programs provide:
Hands-on experience to develop individual leadership skills.
Focus on effective communication skills.
Understanding of the issues & concepts of leadership and purposeful & analytical reflection on leadership experiences.
Proven leadership strategies for working with others in challenging situations onboard a sailboat.
Clarity on how philosophies of leadership impact each individual's leadership style, particularly on their strengths & weaknesses.
Our schedule is entirely flexible so our Captains can insure Students have ample opportunity to engage with one another, College/University staff, during sailing, meals and structured group discussions. We recommend this approach is complemented by seminal readings on leadership, lectures, journaling and the writing of a summative essay. We'll be pleased to discuss these aspects with you and provide recommendations.
Trip Timing and Duration
A typical Teamwork & Leadership Program lasts a total of 8 days but since each trip is designed around the requirements of your school the following trip outline is merely an example For your first 3 nights you would be based in excellent onshore accommodations in Marsh Harbour while you enjoy 'day sailing' with your professional Captain in the Sea of Abaco, this will familiarize each group with living and working onboard a sailboat. You would then take a fabulous 2 night trip to visit several other reef islands before spending another 3 nights onshore on a different island, where a professional Divemaster will conduct the
Discover Scuba
training. Once your class and pool lessons are completed you would travel out to the reef on the dive boat to take part in 2 shallow dives accompanied by your Divemaster. Your group would return to Marsh Harbour by Ferry on the day of your flight home. Please note that Scuba Diving is optional and not every school incorporates this into their program.
Cost
Since all our trips are tailored to the particular requirements of your group, the per person trip price for your school will reflect the duration of your trip, your itinerary, the activities you've chosen and your budget! You can specify a trip between 5 and 10 days, Minimum crew size is 6 and our maximum group capacity is 28 in 4 groups of 7.
Contact us to check availability, establish approximate costs for your group and to discuss alternative preferences for Scuba Diving training and/or certification.