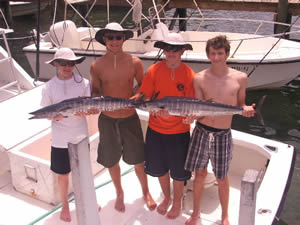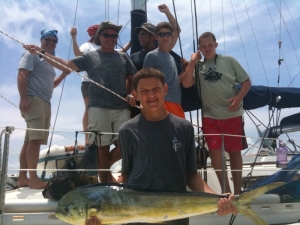 Check out the photographs - they speak volumes about the excitement, the thrills and the lifelong memories that can be experienced during your trip with us, not to mention the awesome meals you can enjoy for days after a successful day out on the water!
We can arrange for your group to experience deep-sea fishing with an experienced local Captain on their offshore fishing boat. You can book half-day or full-day 'offshore' fishing trips.
There's a wide variety of fish for you to catch, Mahi Mahi, Wahoo or Tuna or even Grouper and Snapper depending on the time of year. Your offshore fishing Captain will transport you to the deep water beyond the reef in a fast offshore fishing boat, in this world-renowned sport fishing location. If you're lucky enough to catch something you could find yourself enjoying it for dinner.
Cost $450-$600 per boat per half day; there's a minimum of 4 and maximum of 8 people per trip and the cost depends on the size of fishing boat you charter. Remember there are plenty of other great things to do if you choose not to go fishing.
Let us know if you need further information.