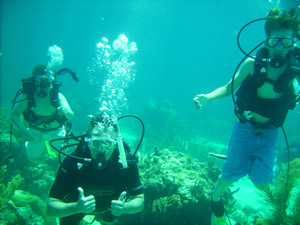 We offer a range of Scuba Diving options all with professional guidance and instruction. We have the perfect scuba diving adventure for you and your family or group whether you arrive with no experience and just want to discover what it's like to explore the world beneath the surface, are already certified or want to get yourself certified while you are in the Bahamas.
The third largest barrier reef in the northern hemisphere offers you unparalleled visibility and outstanding diversity in aquatic life, wrecks, coral and coral structures such as canyons, walls, tunnels and caverns.This presents you with the enviable choice of a wide range of scuba diving trip options, just let us know what you want to do.
Discover Scuba
While you learn to sail with us, you can take this opportunity to learn to scuba dive in the fascinating world beneath the waves! This is a simply awesome trip, which is professionally run by an experienced Divemaster.
If you don't have certification such as PADI but still want an amazing underwater scuba adventure, you'll receive a 1-hour class session then in-water dive instruction. You'll then travel on a Dive Boat to two different reef locations where your Divemaster will guide you through two breathtaking trips to explore the barrier reef.
This trip is very popular with Scout Troops and Families so if you wish to speak to someone who has participated in this trip, let us know.
Cost: $135 per person; this includes mask, snorkel & fins, BCD, tanks & weights. There must be a minimum of 6 in your group. This trip is optional and the cost is not included in your trip.
Certification
We offer a combined sailing and scuba diving package, however, if you're interested in organizing a series of scuba dives or getting certified with PADI Basic Scuba Diver or Open Water Diver please contact us to discuss what you'd like to do and we'll let you know what it will cost.